Mapa Świadomości, cytaty i wnioski z prac wybitnego psychiatry:
dr David R. Hawkins M.D. , Ph.D.
informacje o autorze można odnaleźć na stronie : http://veritaspub.com/ w Polsce polecam wydawnictwo Virgo ( tylko książki D. Hawkinsa )
Swojego czasu, gdy jeszcze książki Davida Hawkinsa nie były wydawane w Polsce – robiłem wszystko aby zostały wydane – okazało się, że prawa do wydań zakupiła Ś.P. P. Dorota Więckowska-Granicka ( twórczyni wydawnictwa Virgo ) i tak się wtedy poznaliśmy… ale nawet wydawnictwo Onepress zgodziło się na wydanie Siła czy Moc, tylko w tym samym czasie Pani Dorota ich ubiegła :)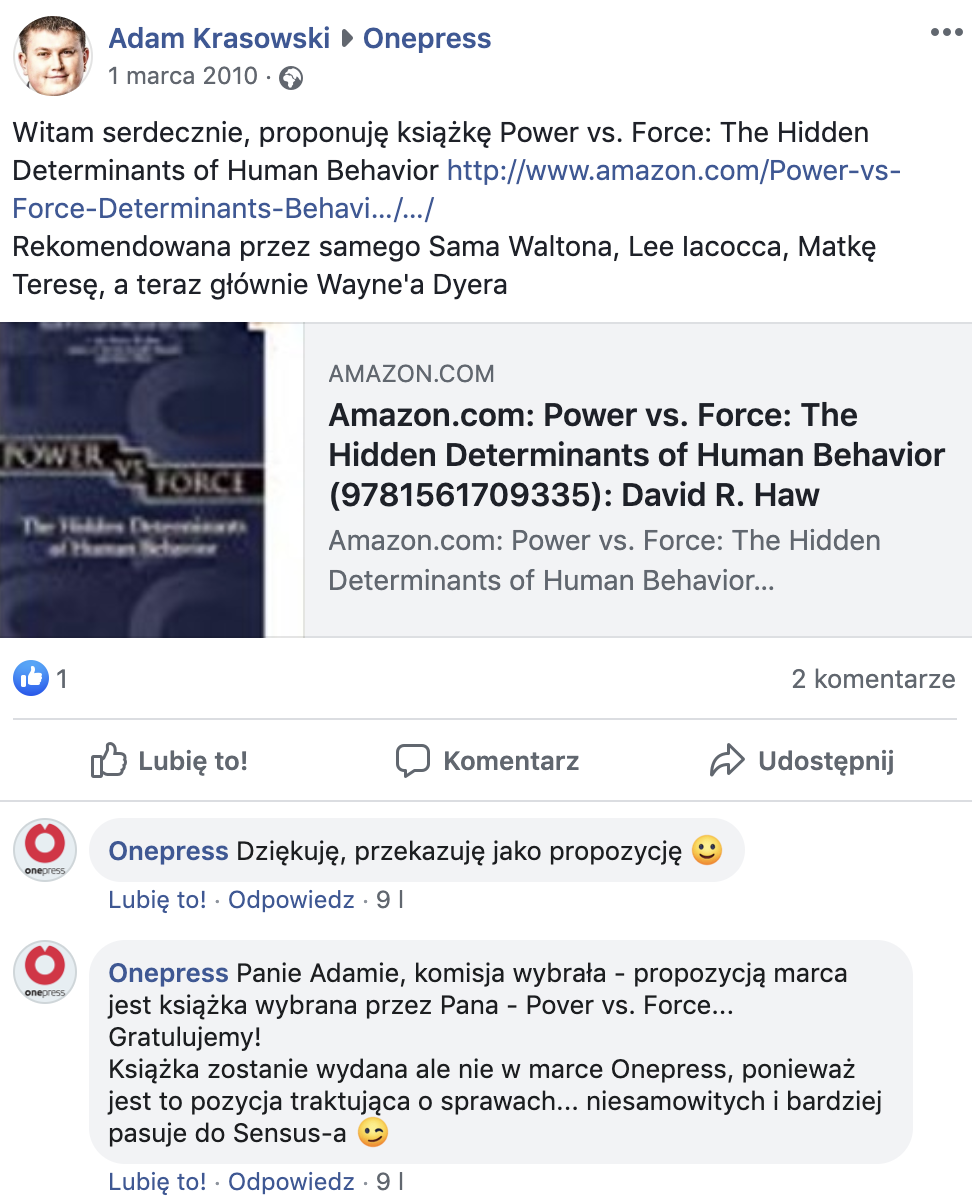 Kinezjologia – jak odróżnić prawdę od fałszu
Rozwój Świadomości
O autorze
Kim jest dr David R Hawkins ?
Opinie o książce Power vs. Force :
" …szczególnie na czasie…. Znaczący wkład w zrozumienie i radzenie sobie z problemami, które dzisiaj stoją przed nami " LEE IACOCCA
" Szczególnie doceniam badania i prezentację wzorców przyciągających w biznesie…" SAM WALTON
" Piękny dar , siejesz radość, miłość i współczucie poprzez to co piszesz. Owocem tego drzewa jest pokój, jak wiesz … " MATKA TERESA z KALKUTY
Dr David R Hawkins jest bardzo znanym i szanowanym w ekspertem w zakresie psychiatrii w Stanach Zjednoczonych (choć nie tylko)
Jest dożywotnim członkiem Amerykańskiego Stowarzyszenia Psychiatrycznego, rozpoczął pracę jako psychiatra w 1952 roku. Posiadał największą i na świecie praktykę ( własny instytut ) psychiatryczny w Nowym Yorku, współtwórca wraz z Noblistą Linusem Paulingiem Psychiatrii Ortomolekularnej.
Obecnie jest dyrektorem " The Institute for Advanced Theoretical Research"
Dzięki odkryciu stulecia, Kinezjologii , która pokazała nam, jak odróżnić prawdę od fałszu,
został najbardziej cenionym nauczycielem duchowym w USA.
Teraz każdy*(intencja nie może być egoistyczna) z nas może w domu sprawdzić prawdę.
Np. ( Ocieplenie klimatu jest spowodowane działaniem człowieka : FAŁSZ ! )
( Ocieplenie klimatu jest spowodowane działaniem słońca : PRAWDA )
Czy już wyobrażasz sobie, co to oznacza dla przyszłości naszego świata.
Możemy sprawdzić poziom świadomości , prawdę na temat dowolnego człowieka.
Możemy weryfikować nawet historię.
Okazało się, że mamy dostęp do bazy Uniwersalnej Świadomości – poprzez kinezjologię.
Mapa Świadomości
Uwaga, skala jest wykładnicza. To znaczy poziom mocy przy każdym poziomie świadomości oznacza , że jest to wielkość : x do potęgi 10.
od 0 do 200 jest poziomem , który osłabia, zabiera moc > osoby poniżej poziomu 200 nie są zainteresowane prawdą oraz uczciwością, ich poziom mocy osobistej jest niewielki. Poziom osób poniżej poziomu 200 w Polsce wynosi około 85 %.
Wstyd [ 20 ]
Wina [ 30 ]
Apatia [ 50 ]
Żal [ 75 ]
Strach [ 100 ]
Pragnienie [ 125 ]
Złość [ 150 ]
Duma [ 175 ]
————————————– prawdziwa moc zaczyna się powyżej 200
Odwaga [ 200 ]
Gotowość, Ochota do Działania, Pomocy innym [ 310 ]
Akceptacja [ 350]
Rozum [400] poziom Einsteine'a , Edisona itp., lekarzy, naukowców
Miłość [500] C.G. Jung , Karol Wojtyła,
Radość, Bezwarunkowa Miłość, Wdzięczność [540]
[570] Karol Wojtyła
Pokój [600]
Oświecenie [700-1000]
Najszybszy jak do tej odkryty przeze mnie sposób rozwoju świadomości, który jest prosty i łatwy w codziennym użyciu – to Uwalnianie – sztuka poddawania – gdyż każdy z nas posiada wybór !
Hawkins jako jeden z niewielu prawdziwych nauczycieli – posiada na swoim koncie niewyobrażalną liczbę osiągnięć jak na jednego człowieka. W pracach, książkach, wykładach czy nagraniach Hawkinsa nie znajdziemy popularnego w 21 wieku amatorskiego podejścia do psychologii, które wyłącznie wpędza w coraz większe problemy setki tysięcy ludzi na całym świecie. Dzięki Hawkinsowi – każdy może uwolnić się od cierpienia i zrobić to w bardzo szybkim tempie.
Awards and Recognition
• Inducted into the 2006 American Psychiatric Association 50-year Distinguished Life Fellows honor
• Inducted into the 2006 Orthomolecular Medicine Hall of Fame
• Established Devotional Nonduality as a major spiritual pathway and the Science of Consciousness Research
• Published numerous articles in spiritual periodicals, 1990 – current
• As appeared on The Today Show, Science, Barbara Walters, the McNeil-Leher News Hour and talk radio shows worldwide
• Presents lectures and workshops throughout the U.S., along with monthly full-day seminars, 2002 – current
• Gave annual Landsberg Lecture at the University of California Medical School at San Francisco
• Listed in Who's Who in America and Who's Who in the World
• Appointed consultant to the Unity School of Religious Studies and post-graduate curriculum, including establishment of the Unity School of Consciousness Studies, 2003
• Published research on Science of Consciousness in series of books in 14 languages
• Establishment of worldwide independent study groups
• Nobelists and world leaders accorded recognition in support of world value of research and writings: Dr. Linus Pauling; Mother Theresa; Lee Iacocca; Sam Walton; Bill W. (founder of Alcoholics Anonymous); numerous clergy and businessmen (spirit in business).
• Consultant to government leaders, South Korea, 2000
• Received title "Tae Ryoung Sun Kak Dosa" (Teacher of Enlightenment), Seoul, Korea, 2000
• Knighted by the Sovereign Order of the Hospitaliers of St. John of Jerusalem by authority of the Priory of King Waldemar the Great. The Order was established in 1070 and arrived in Denmark around 1164. The ceremony was conducted by H. H. Prince Waldemar of Schaumburg-Lippe on October 7, 2000. He was elected to the Order in October 1996 and was sponsored by Fernando Flores, then an ambassador to the United Nations. The Danish Order then established a branch in the Americas, which supports humanitarian projects in third-world countries.
• Physicians Recognition Award, American Medical Association, 1992
• Elected to Sovereign Order of St. John of Jerusalem (Founded 1077), 1989
• Invited to become Commissioner of Mental Health, State of New York, February, 1983
• Citation from Medical College of Wisconsin for "Contribution to Medicine"
• Taught classes on Advaita
• Published articles with Bill W., cofounder of Alcoholics Anonymous
• Taught classes based on A Course in Miracles
• Consultant to clergy, cloistered nuns, Episcopal and Catholic dioceses, the Zen Monastery (NYC), and spiritual groups
• North Nassau Mental Health Center Award for "Dedication to the Alleviation of Human Suffering," 1978
• Huxley Award for "Inestimable Contribution to the Alleviation of Human Suffering," 1979
• Published Orthomolecular Psychiatry with Nobelist Linus Pauling, 1973
• Published numerous scientific papers in the American Journal of Psychiatry amongst other fine publications, 1953 – current
• Founder and Director, The Mental Health Center (largest practice in New York City), 1958 – 1980
• Training Psychoanalysis by Prof. Lionel Oversey, M.D., at Columbia University Psychoanalytic Institute
• Supervising Psychiatrist, New York State Department of Mental Hygiene, 1957
• Awarded Fellowship in Psychiatry, Mt. Sinai Hospital, New York, 1956
• Intern, Columbia Hospital, New York School of Psychiatry, 1954
• Mosby Book Award for Scholastic Excellence, 1953
• Alpha Omega Alpha – National Medical Scholastic Honor Society, 1952
Founded
• North Nassau Mental Health Center, Inc., 1958
• Federation of Mental Health Centers, 1963
• North Nassau Clinical Laboratories, 1970
• North Nassau Research Division and Laboratories, 1971
• An Integrated System for the Care of Schizophrenics, 1971
• Academy of Orthomolecular Psychiatry, 1971
• Institute for Applied Spiritual Studies, 1980
Co-Founded
• Schizophrenics Anonymous (Board of Directors; Medical Advisor)
• Schizophrenia Foundation of New York State (Incorporator; Director)
• Schizophrenia Foundation of Long Island (Board of Directors; Medical Advisor)
• Institute for Scientific Communications (Incorporator; Board of Directors)
• Journal of Orthomolecular Psychiatry (Editorial Board)
• Journal of Schizophrenia (Editorial Board)
• St. George's Day Activities Center (Medical Advisor)
• The Attitudinal Healing Center of Long Island (Board of Directors; Medical Advisor)
• Christ Church Day Activities Center (Medical Advisor)
• The Masters Gallery of Fine Arts (Co-Director)
• Mental Health Fairs
• The Gateposts Halfway House (Medical Advisor)
• Garfield House (Halfway House)
• Day Activities Center of Port Washington (Medical Advisor)
• Brunswick House (Alcoholism; Psychiatric Consultant)
• New York Association of Holistic Health Centers
• Life Support Systems (Board of Directors)
• Space Form (Ecologic Communities and Low-Energy Housing)
• Became Director Emeritus of the North Nassau Mental Health Center in 1980 and gave up psychiatric practice to spend full time on spiritual research.
Membership
• American Medical Association (Life Member)
• American Psychiatric Association (Life Member)
• New York State Medical Society
• Nassau County Medical Society
• Nassau Physicians Guild
• Nassau Academy of Medicine
• New York Academy of Science
• The American Association for the Advancement of Science
• New York State Psychiatric Association
• Qualified Psychiatrist, New York State Department of Mental Health
• Nassau Psychiatric Society
• New York State Clinical Directors Association
• American Association of Psychiatric Administrators
• Academy of Orthomolecular Psychiatry (Founding President; Chairman of the Board)
• International Academy of Preventive Medicine
• American Holistic Health Association
• The Huxley Institute for Biosocial Research (Board of Directors)
• Academy of Religion and Mental Health
• New York State Association of the Professions
• The Academy of Psychosomatic Medicine
• Schizophrenia Foundation of New York State (Board of Directors; Medical Advisor)
• The Attitudinal Healing Center of Long Island (Board of Directors; Medical Advisor)
• North Nassau Mental Health Center (Director Emeritus)
• Medical Society of the Brunswick Hospital (Director of Psychiatric Research)
• Attending Staff, Gracie Square Hospital
• Youth Consultation Services, Episcopal Dioceses, Long Island (Psychiatric Consultant)
• Editorial Board, Journal of Orthomolecular Psychiatry
• Editorial Board, Journal of Schizophrenia
• Editorial Board, (Alcoholism), Journal of Psychotherapy
• American Schizophrenia Association (Scientific Advisory Board)
• National Society for Autistic Children (Professional Advisory Board)
• Long Island Council on Alcoholism
• The Federation of Mental Health Centers (Co-founder)
• American Medical Society on Alcoholism
• Arizona Medical Society
• Arizona Psychiatric Society
• Brunswick House (Director of Research, Alcoholism)
• The National Acupuncture Research Society
• American Geriatric Society
• International Council on Applied Nutrition
• The Academy of Preventive Medicine
• Canadian Psychiatric Association (Associate Member)
• American Society for Psychological Research
• Monroe Institute for Applied Science
• International Kirlian Research Association
• National Council on Alcoholism
• The Association for the Advancement of Psychotherapy
• The Society for the Study of Addictions
• American Institute for Scientific Communications (Co-founder)
• International Society for General Semantics
• Consultant on Alcoholism, U.S. Department of Health, Education, and Welfare
• American Ontoanalytic Association
• Consultant, New York Foundling Hospital
• New York Paleontological Society
• Consultant, Operation Hotline
Non-Medical Memberships
• The First Zen Institute of America, 1960
• The Institute for Applied Spiritual Studies (Founder, Chairman), 1983
• Institute for Advanced Spiritual Research, Inc. [501© (3) Public Charity], 1983
• Sovereign Order, St John of Jerusalem, 1995
• Devotional Nonduality Community (Founder, 2003)